Careers in the HVAC & Plumbing Industry
We use air conditioners, furnaces and indoor plumbing on a daily basis but rarely think about these necessities until we need them the most.
A career in the heating, ventilation, and air conditioning (HVAC) industry, or following a plumbing career path, can be rewarding for many reasons. You are the person to call when systems break down. When customers require professional assistance to return their units to proper working order or have replacements installed, they know they can turn to you.
In Michigan, hot summers and cold winters wreak havoc on HVAC systems, and cause plenty of plumbing concerns. There is no doubt that you will be needed.
HVAC technicians and plumbers find great satisfaction in their lines of work. Not only are they serving members of the community in a meaningful way, they also have promising futures ahead of them, and are well-compensated for their efforts.
In this article, we'll take a look at some of the characteristics of HVAC and plumbing specialists, their daily tasks, and the benefits of the job.
What does it mean to follow an HVAC career path?
When you choose to become an HVAC technician, you're investing in your future and the lives of the people you serve.
Most days, you'll go to work in a new setting: we cover a wide variety of neighborhoods and communities across West Michigan. You'll be presented with a problem that you need to find the solution to. That may include a furnace repair or replacement, an AC tune-up or a professional water heater installation for your customer. From routine maintenance to complex installations, careers in the HVAC industry involve problem solving, ingenuity and mechanical skills.
If you're a person who likes to be hands-on and loves working with people, consider an HVAC career path. Some of the many benefits include:
The ability to work in many different environments.
You're not stuck behind a desk in the office all day.
You'll regularly talk to someone new and form bonds with customers.
HVAC specialists are in high demand; nearly everyone needs your expertise.
There's always a challenge to tackle and your success is rewarded.
When you work for an experienced HVAC contractor like Vredevoogd Heating & Cooling, you are valued. Competitive wages, expert training, and the support of an experienced company will help you grow in your career, as part of a team that is committed to excellence.
What does a plumbing career look like for me?
When you think of a day in the life of a plumber, picture this scenario:
Your supervisor just received a call from an elderly woman a few miles away who reported that the drain in her kitchen is backing up. She has a hard time moving around her home and does not have the ability to take care of the clog. When you arrive, you quickly diagnose the problem and clean and unclog the kitchen drain, allowing water to flow freely once again. While inspecting the drain, you notice that unexposed piping in the home hasn't been updated for decades and poses a significant health risk, as the pipes consist of lead. The woman was unaware of the danger and wouldn't have been able to view the unexposed piping without you. She thanks you for providing not only the service you were called for, but the recommendation for a re-piping installation.
Stories like these are just some of the many reasons providing plumbing services for local communities is so important.
In addition to drain cleaning and re-piping, those in plumbing careers also provide repair and replacements for:
Faucets
Sump Pumps
Garbage Disposals
Sewer Ejector Pumps
Water Heaters
Toilets
More!
At Vredevoogd, you'll work with a team of highly-trained professionals who provide an important, rewarding service. As an expert plumber, you'll earn a great living, develop new career skills, all while feeling a sense of accomplishment for helping those who need it.
Join the A+ Team at Vredevoogd Today!
We are always seeking talented, skilled, and compassionate individuals to join our team. If you have a passion for the work you do and people you meet, we are interested in hearing from you. Vredevoogd Heating & Cooling is A+ rated with the Better Business Bureau (BBB) and strives to offer unparalleled comfort to the people we serve. Learn more about our employment process and apply for a position with us. We can't wait to hear from you!
Call Vredevoogd Heating & Cooling for all your plumbing, heating, & cooling needs. In the greater West Michigan, Lakeshore, and surrounding areas call: 844-HVAC-365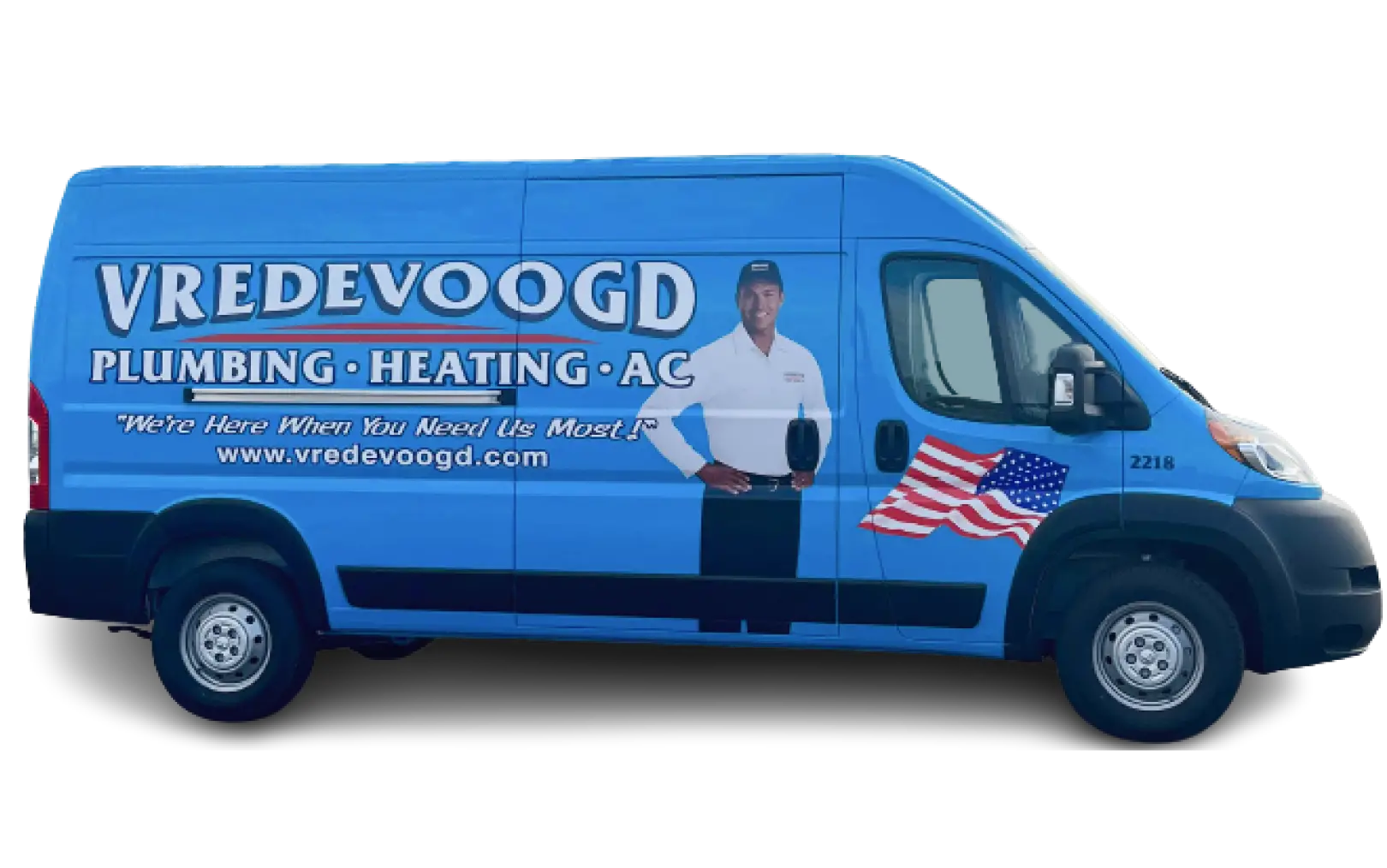 Why Choose Vredevoogd?
Michigan's HVAC & Plumbing Experts Since 1964
Serving the area for over 50 years
24/7 emergency HVAC services
Same-day services
Licensed, insured & background-checked technicians
Free estimates & financing options
Military & veteran