Our Reviews
See What Your Neighbors Are Saying
Completely professional. Did an outstanding job meeting our needs and time frame. Didn't try to push us to get more than we needed or could afford but made sure we had the right fit for our home
Amanda S
Portage, MI
Very impressed with Vredevoogd Heating and Cooling. I met three of their techs and all of them were wonderful. We had the air conditioning and furnace installed in one day and they had our house cooled and ready to go by 1pm. Very polite, hard working and honest. Would highly recommend.
Emilee S.
Comstock Park, MI
We were having issues with low hot water pressure on/off for a year; lots of sediment in tank. Hot water tank and furnace 20 years old. Asked technician to take a look at the furnace to see if there were any problems and he showed me several failures including large cracks. He told me all the options and handled getting a rebate from our gas company. We saved money getting them both replaced at same time and a free total home humidifier with purchase of the furnace. We chose a furnace that had a 10 year warranty on parts and labor, will save on energy and runs quietly. We chose the 18 months free financing. It was good we had the furnace replaced because of the danger of carbon monoxide leakage. Technition was very professional and helpful
Rebecca E.
Holland, MI
I had David G's help this afternoon locating a leak source, and going over regular maintenance required for my home (I'm an inexperienced first-time owner). I cannot thank him enough for his courteous help, thoughtful advice & time. I look forward to using Vredevoogd's services in the future!
Jane O
Kalamazoo, MI
Ryen was PHENOMENAL!!! He explained thoroughly the functioning of my system. He also saved me tons of money in repair along with replacement. Hands down they have truly earned my business!!!! I couldn't be happier with my visit.
Karenia R.
Lansing, MI
All of the contacts with Vredevoogd have been professional, prompt, and courteous. Those on site always help explain the situation, options, and cost efficiency. Very much appreciated. Highly recommend Vredevoogd.
Greg R.
Grand Rapids, MI
Technician was prompt and efficient and explained the situation in easy to understand terms. Our issue is complicated and every point of contact so far has been absolutely excellent.
Every single person I had contact with from this company was friendly and professional. I would absolutely do business with them in the future should the need arise. 100% satisfied with every single step of the process.
Kevin N.
Lawton, MI
Professional, courteous, efficient. Evan quickly and accurately diagnosed my plumbing problem, thoroughly explained what was going on and any recommendations, and preceeded with the repairs. Thank you!, Evan and Vredevoogd for the excellent service!
Corey A.
Wyoming, MI
The salesman was professional, personal and friendly. He was very knowledgeable about the units, the business and everything in general The installers when great. They were very informative. They treated me and my house with respect. Great all around company
Matthew T.
Okemos, MI
I called on a Wednesday morning because our AC unit had conked out that previous Monday night. Tuesday was the Fourth of July and I didn't think we needed an emergency call ( although it was hot for sure! :) They had someone out here the same day I called, he gave me 4 great options to choose from (we had anticipated needing to replace the unit as it was very very old), and we are on the schedule in 2 days (so Friday) for the replacement. Can't ask for better or faster service. The pricing was very good and very fair. Thanks Vredevoogd!! Looking forward to our new AC!
Robyn E.
Dorr, MI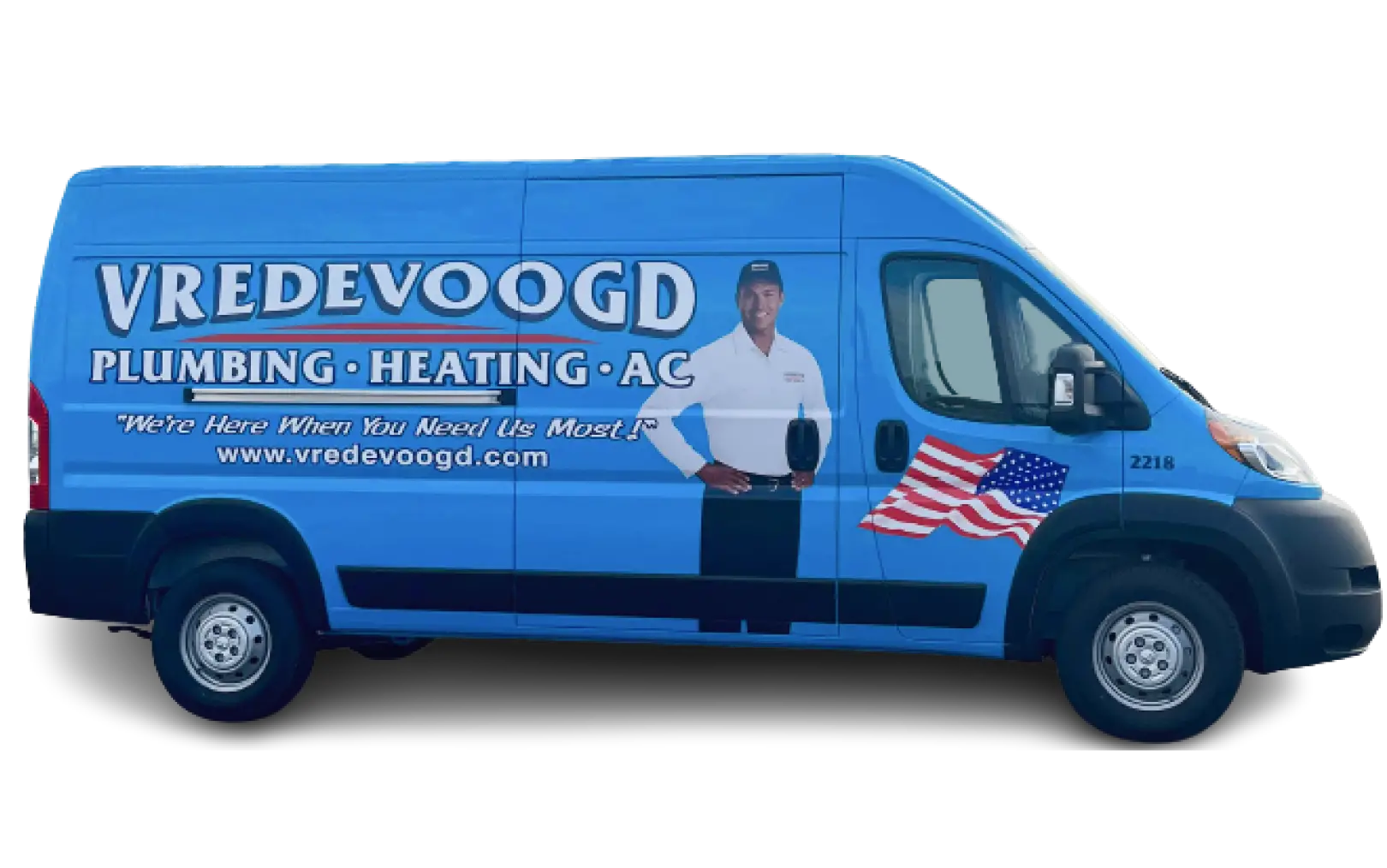 Why Choose Vredevoogd?
Michigan's HVAC & Plumbing Experts Since 1964
Serving the area for over 50 years
24/7 emergency HVAC services
Same-day services
Licensed, insured & background-checked technicians
Free estimates & financing options
Military & veteran