Everything You Need To Know About Michigan HVAC Tax Credits
Great news for Grand Rapids, Kalamazoo, and Lansing homeowners! If you've been thinking about investing in home improvements that increase energy efficiency and save you money, financial help is available.
As a Michigan homeowner, you can now improve your heating, air conditioning, and plumbing systems to take advantage of significant credits under the Inflation Reduction Act that went into effect on January 1, 2023. Tax credits and rebates of up to $14,000 make it easier and more affordable than ever to make your home more energy-efficient while also doing your part to reduce the effects of climate change.
Talk to one of Vredevoogd's HVAC and plumbing specialists today to learn how to reduce your energy bills and potentially save thousands of dollars on purchasing energy-efficient appliances.
ENERGY STAR® Tax Credits
Also known as the climate bill, the IRA provides nearly $400 billion in clean energy sources and technologies that improve energy efficiency. The federal tax credits are available through 2032, with homeowners receiving up to $3,200 annually to lower the cost of energy-efficient appliances and other products, including heat pumps, heat pump water heaters, insulation, and home energy audits.
How much money can you save? Sample rebates for a two-person Michigan home include:
HVAC: $2,000 toward a heat pump.
Water heaters: Up to $2,000 for a heat pump water heater. Rebates are also available for gas or propane water heaters, hot water boilers, and biomass boilers.
Home energy audits: $150
Efficiency rebates: The lesser of $4,000 or 50% of retrofit project costs.
Low-income households qualify for further rebates. And all homeowners take advantage of tax credits for items like electrical panels, solar battery storage installation, and residential EV chargers.
Michigan Homeowner Eligibility 
Michigan homeowners benefit from various financial incentives the IRA provides, with many households seeing lower expenses through:
Reduced energy costs and rebates that cover anywhere from 50% to 100% of the price of buying and installing energy-efficient appliances.
Tax credits of 30% for solar panel installation and battery storage systems, home improvements that reduce energy leakage, and HVAC equipment upgrades.
Rebates for improvements and repairs that increase energy efficiency in single and multi-family residences.
The act also provides tax credits for electrical and clean energy improvements at affordable housing units and community solar projects.
What Are the Available Rebates & Tax Credits?
Michigan's Energy Smart program for residential customers offers rebates that make energy-efficient solutions more affordable for more people. The Michigan Saves program provides homeowners with a convenient way to finance energy-saving improvements.
Rebates for Michigan residential customers include numerous Energy Star® appliances, such as:
High-efficiency heat pump water heaters
Programmable thermostats
Electric clothes dryers
Dehumidifiers
And more
The state's various utility companies also offer utility rebate programs, so contact your provider to see if you qualify for additional savings.
Qualifying HVAC Systems
There's never been a better time for Michigan homeowners to make the switch to more energy-efficient heating, cooling, and plumbing systems, including:
High-efficiency central air conditioners
Gas furnaces
Heat pumps
Packaged units
Boilers
Geothermal systems
Ready to start saving? Talk to your utility provider or a professional heating, cooling, and plumbing company about performing a home energy audit to learn more.
Replacing Your HVAC Unit To Claim the Rebate
Replacing or upgrading your home's HVAC and plumbing systems reduces energy consumption and aligns with the IRA's goals of promoting sustainable practices and reducing carbon emissions. The skilled team at Vredevoogd Heating & Cooling can install a new HVAC unit at your Michigan lakeshore home that helps you can claim the rebates and credits you're entitled to. 
Why Choose Vredevoogd?
Keep in mind that while DIY projects qualify for some incentives, others require you to work with a professional installer. Since 1964, Vredevoogd has delivered superior HVAC and plumbing services to Michigan's lakeshore region. 
Call 844-HVAC-365 to learn more about the IRA and the rebates and tax credits available in your neighborhood.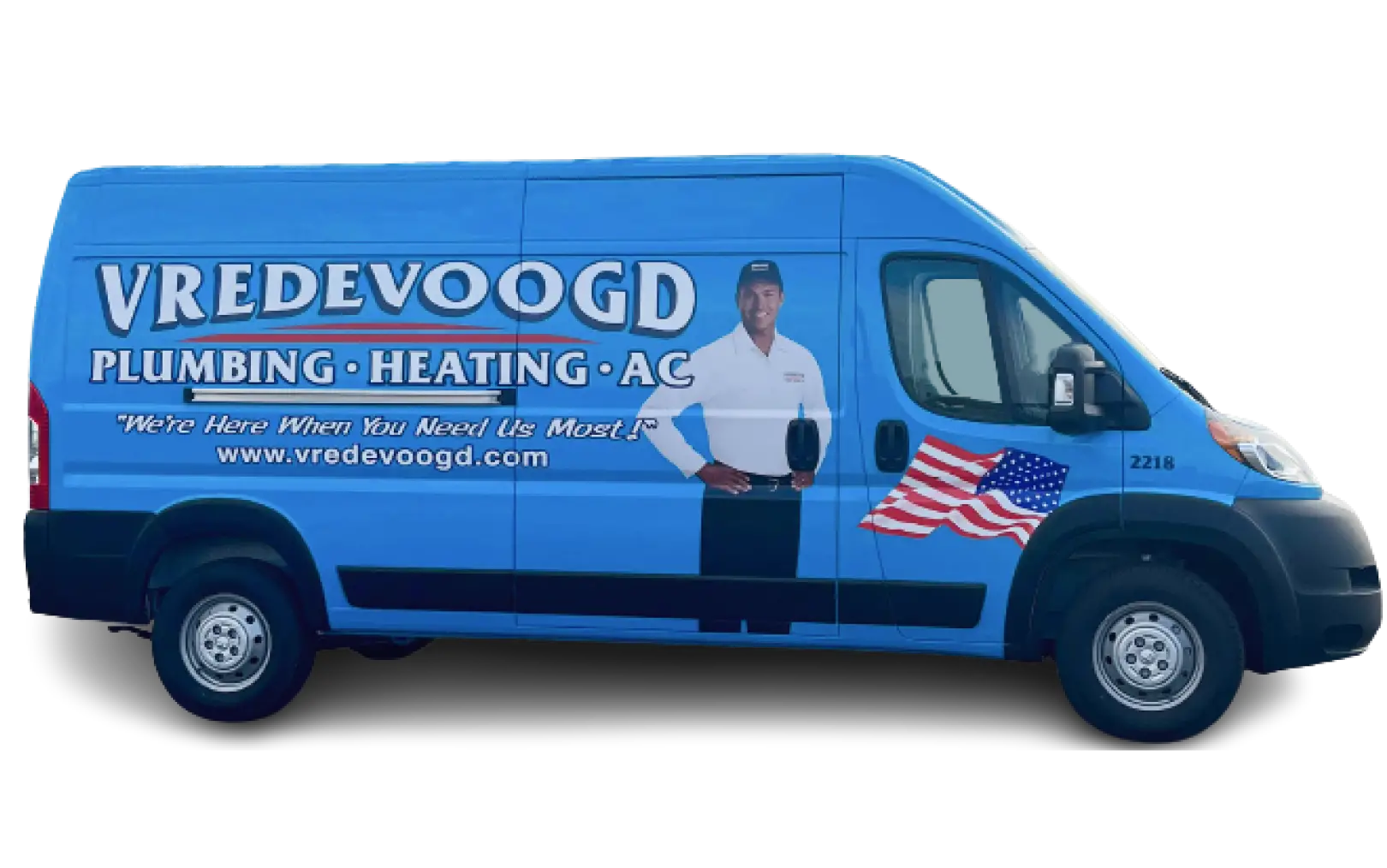 Why Choose Vredevoogd?
Michigan's HVAC & Plumbing Experts Since 1964
Serving the area for over 50 years
24/7 emergency HVAC services
Same-day services
Licensed, insured & background-checked technicians
Free estimates & financing options
Military, veteran & senior discounts