Damages Caused By High Humidity
While the Grand Rapids area isn't as humid as other parts of the country, high humidity in your home can still dramatically reduce your comfort level and do some serious damage to your property and your health.
What, Exactly, is Humidity?
Home humidity is the moisture in your home's air. Relative humidity is given as a percent and tells you how close the air is to being saturated with water. Warm air can hold more water vapor than cold air, so if the amount of water vapor in the air stays the same but the temperature increases, the relative humidity will decrease. If the amount stays the same but the temperature decreases, the relative humidity will increase.
What's the Problem with High Humidity?
High humidity makes you feel hotter and stickier, and it can cause a number of problems in your home. If the air anywhere in your home–including the basement or attic–reaches the dew point, which is the temperature at which the air can no longer hold the moisture, the water vapor will condense on surfaces cooler than the air temperature. This can lead to wet insulation and framing as well as damage walls and windows. Water damage and mold growth are common problems related to high home humidity, which can also cause warping of your wood floors, furniture, instruments and other wooden items.
A study published in the journal Environmental Health Perspectives cites a number of ways in which high humidity affects your health as well, including: (1)
Worsened asthma and other respiratory illnesses.
An increased risk of heat stroke and heat exhaustion when the temperature is also high.
Increased dust mite populations and fungal growth, which worsens allergies.
Increased growth of airborne pathogenic bacteria and some viruses.
Increased off-gassing of volatile organic compounds from your home and its contents.
The Ideal Home Humidity Level and How to Achieve It
The Environmental Protection Agency recommends maintaining indoor humidity levels of 30 to 50 percent.(2) An inexpensive hygrometer will tell you how humid your home is.
Here are the best ways to reduce home humidity:
Lay a plastic vapor barrier on the dirt-floors in your crawlspaces.
Seal air leaks, which allow humidity from outside to infiltrate.
Install and use ventilation fans in the kitchen and bathroom.
Install a mechanical home ventilation system, especially if your home is tightly sealed.
Have your air conditioner tuned up each spring. Your A/C removes humidity from your home as water vapor condenses on the cold coils. Dirty coils, an improperly sized air conditioner, or improper airflow due to dust buildup or leaky ducts can increase home humidity.
Use portable dehumidifiers or install a whole-house dehumidifier to remove water vapor from the air.
Vredevoogd Heating & Cooling can help you control home humidity with an annual tune-up that will keep your heating and cooling systems working properly. We offer a number of humidity solutions, including ventilation systems and dehumidifiers. Contact us today, and let us help you achieve ideal humidity in your Grand Rapids home.
(1) https://www.ncbi.nlm.nih.gov/pmc/articles/PMC1474709/?page=1
(2) https://www.energystar.gov/index.cfm?c=home_solutions.hm_improvement_moldmildew
Call Vredevoogd Heating & Cooling for all your plumbing, heating, & cooling needs. In the greater West Michigan, Lakeshore, and surrounding areas call: 844-HVAC-365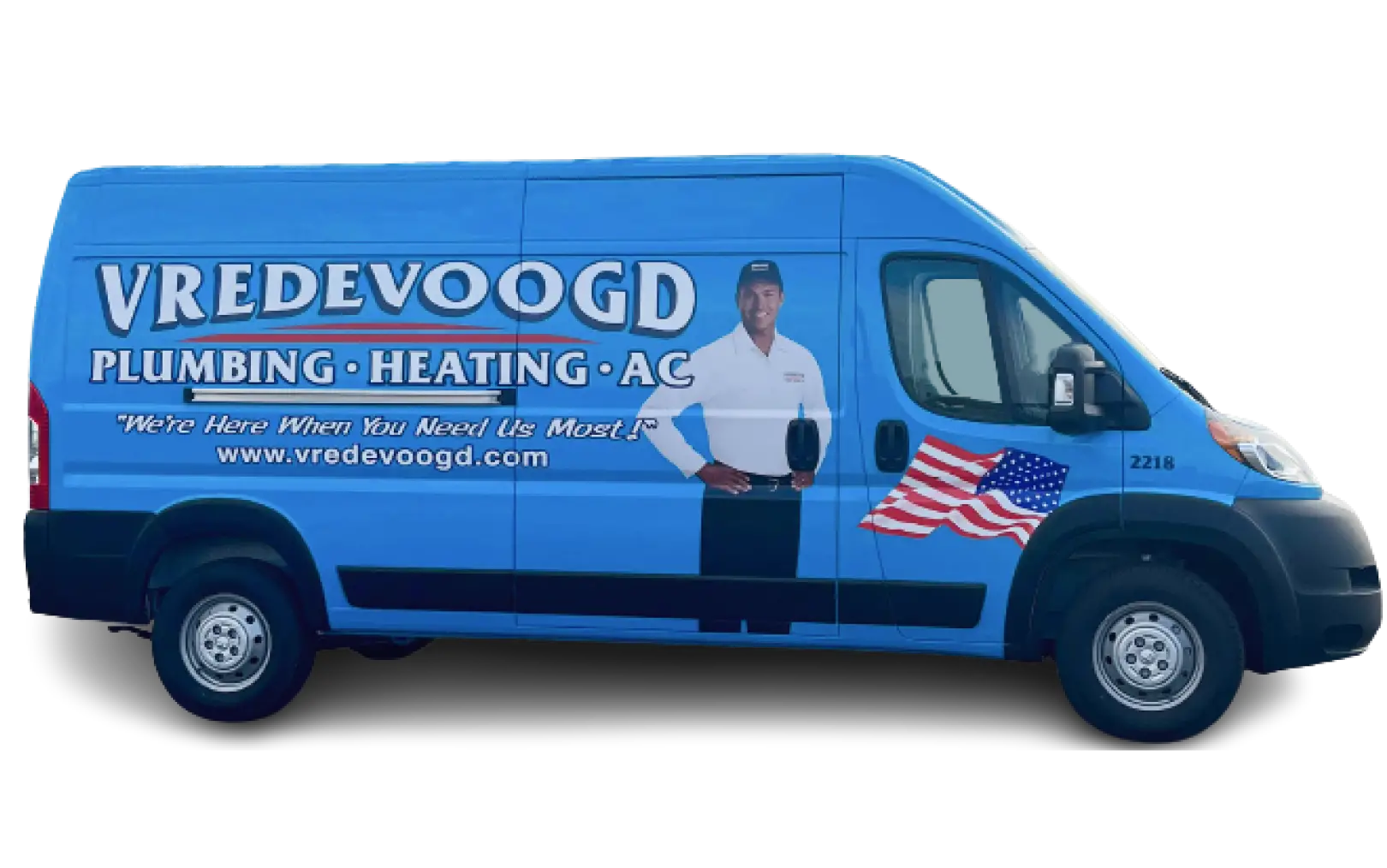 Why Choose Vredevoogd?
Michigan's HVAC & Plumbing Experts Since 1964
Serving the area for over 50 years
24/7 emergency HVAC services
Same-day services
Licensed, insured & background-checked technicians
Free estimates & financing options
Military & veteran