How Much Does It Cost To Replace a Furnace?
Are you a homeowner in need of a new gas furnace? If so, you may wonder about the cost involved and what factors may influence it. A furnace replacement is a substantial investment but can significantly improve your home's comfort and energy efficiency.
At Vredevoogd, we understand the importance of a well-functioning heating system, and we service gas furnaces to ensure you have a warm and cozy home when you need it most. We also understand the importance of planning for your investment, so we put together this helpful guide to help homeowners better understand the costs involved with their heating replacement needs.
Don't settle for a chilly home — choose Vredevoogd for top-quality furnace replacement in Grand Rapids, Lansing, and Kalamazoo, MI. Call 844-HVAC-365 to schedule a furnace replacement in your home today!
How Much Does a Furnace Replacement Cost? 
The cost of a gas furnace replacement can vary greatly depending on several factors. However, it's crucial to consider the long-term savings on energy bills and increased efficiency that a new furnace brings.
Factors That Affect the Cost of Furnace Replacement
Many factors can impact the total cost of your gas furnace replacement project, including:
Furnace efficiency & size: High-efficiency furnaces generally have a higher upfront cost but lead to lower energy bills over time. Additionally, the size of the furnace must match your home's heating requirements, affecting the overall cost. 
Installation complexity: The ease of installing a new furnace can impact the cost. Factors such as the accessibility of the installation area and any necessary ductwork modifications can influence the overall price. 
Brand & quality: Well-known brands and higher-quality gas furnaces often have a higher price tag. However, they are usually more reliable, durable, and efficient, making them a worthwhile investment. 
Additional features: Furnaces with advanced features like zoning systems, variable-speed blowers, and intelligent thermostats may cost more upfront but can enhance comfort and energy savings. 
Local labor & material costs: Regional variations in labor and material prices can affect the overall furnace replacement cost. 
What To Expect During Furnace Replacement Service 
When you choose Vredevoogd for your furnace replacement, you can expect a seamless and professional experience from start to finish. Our certified technicians will thoroughly assess your home's heating needs and recommend the best-suited furnace for your requirements. During the installation appointment, our team will handle the entire process, ensuring proper connections, testing, and safety checks at every step.
Benefits of Professional Furnace Replacement 
Choosing to replace your existing furnace is a worthwhile investment for many reasons, including:
Improved energy efficiency: New gas furnaces boast higher efficiency ratings, leading to lower energy consumption and reduced utility bills.
Enhanced indoor comfort: An appropriately sized and functioning furnace ensures even heating throughout your home, eliminating cold spots and maintaining a comfortable indoor environment.
Reliable system performance: With professional installation, you can trust that your new furnace will operate efficiently and reliably, providing consistent warmth during colder months.
Lower repair costs: Older furnaces are more prone to breakdowns and repairs. By replacing your old furnace, you can avoid frequent repair expenses.
More environmentally friendly: High-efficiency furnaces contribute to reducing greenhouse gas emissions, making them environmentally responsible choices.
Manufacturer warranty coverage: A new gas furnace typically comes with a manufacturer warranty, providing peace of mind in case of any unexpected issues.
Choose Vredevoogd for Furnace Replacement
At Vredevoogd, we take pride in being your trusted HVAC partner. With our extensive experience in gas furnace replacements, we guarantee superior service, reliable products, and competitive pricing on the most trusted manufacturers in the industry. Our team of skilled technicians ensures a hassle-free installation process from start to finish, tailored to your individual needs.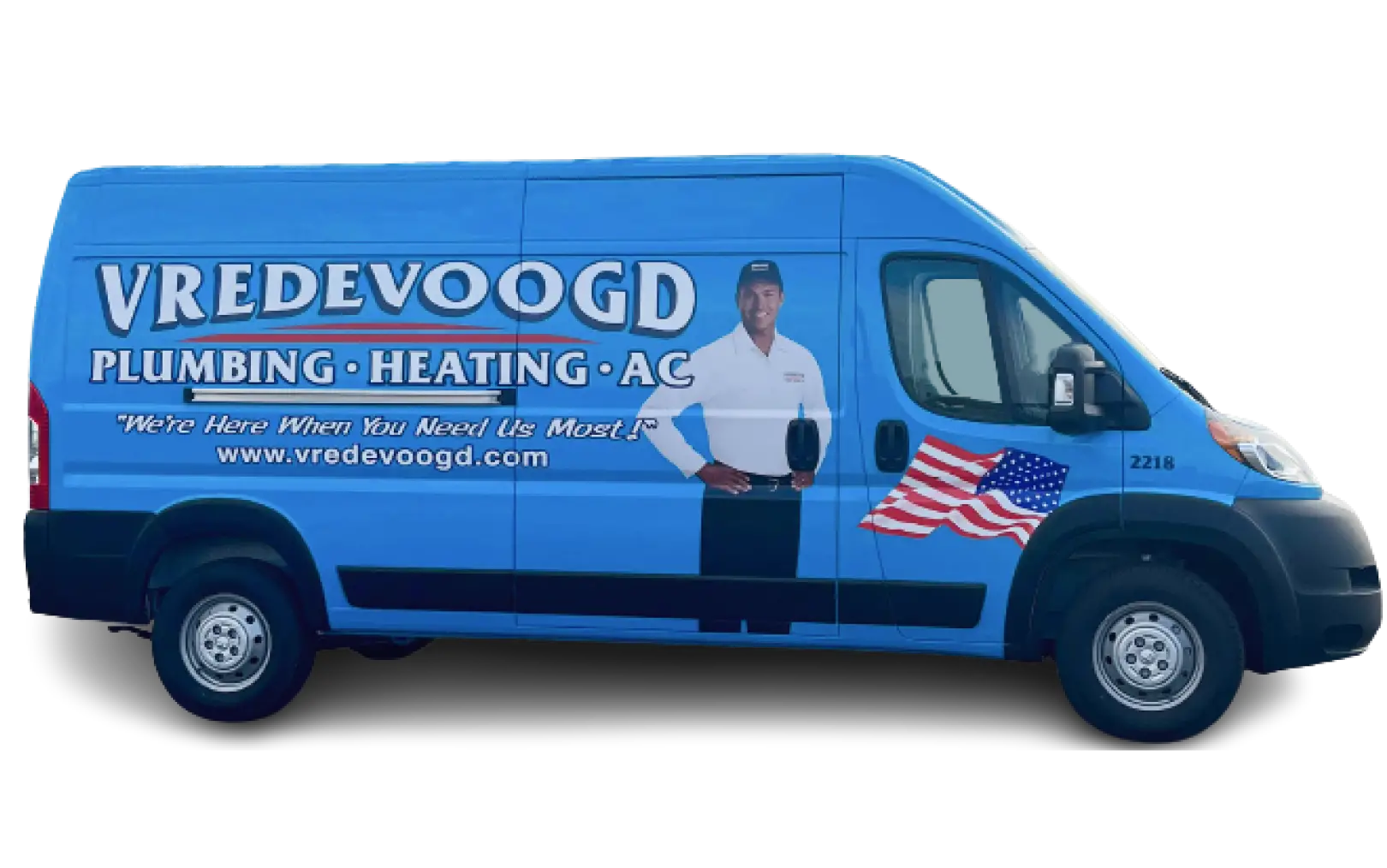 Why Choose Vredevoogd?
Michigan's HVAC & Plumbing Experts Since 1964
Serving the area for over 50 years
24/7 emergency HVAC services
Same-day services
Licensed, insured & background-checked technicians
Free estimates & financing options
Military, veteran & senior discounts