Furnace and Air Conditioning: The Perfect Partners for Efficiency
HVAC refers to the heating, ventilating and air conditioning system in your home that keeps you warm in the winter and cool during the hot summer months. If you need to replace either your air conditioner or your furnace, it's important to understand each system and how they're connected and why a more efficient heating system affects the efficiency of your cooling system. Homeowners who understand how their air conditioner and furnace work together will make more informed HVAC installation decisions that will ensure the most efficient, comfortable home possible.
How Do They Both Work?
Your air conditioner, if you have a central air system, functions by removing heat and humidity from your indoor space and releasing it outside your home. The process is ongoing when your AC is on; cool refrigerant absorbs heat from indoor air, expands it into a warm gas, and sends it to an outdoor unit that expels the heat and turns it into a cool liquid that returns back indoors to absorb more heat. The cool air is distributed throughout your home through air ducts.
A furnace works by heating up air and sending it, via a fan or blower, throughout your home through the air ducts. Your thermostat, once the temperature is below the set temperature, sends a signal to your heating system. The cool air from your home enters the furnace, where the gas valve opens and ignites the burner component. The burning gas warms it within the heat exchanger and sends the heat to all areas of your home through your vents.
Although they are independent of one another, with your AC unit outside your home while your furnace is inside, they do use some common components – fans, vents, filters, and ducts – that work together to move cool and warm air throughout your home. This is what makes your home comfortable, temperature-wise, regardless of whether it's hot or cold outside.
Understanding how they work together, it's important to note that any upgrade to either system will affect the efficiency of the other.
Do I HAVE to Replace Both the AC and Furnace at the Same Time?
While it isn't always necessary to replace your air conditioner and furnace at the same time, it's definitely the right choice when it comes to overall energy-efficiency within your home. Since they both utilize some of the same components, when you replace both units at the same time, the new system will be installed with maximum efficiency. By having both your AC and furnace in tip top shape, on equal footing, the shared energy-efficiency and savings will be clear.
In addition, if you replace both your AC and furnace at the same time, you'll save money in the long run as you're only paying for one installation as opposed to one now and another one in a few years. You'll save money on labor and parts as well as some other costs.
You are also able to maximize the warranties on your new AC and furnace units. Since they'll be purchased and installed at the same time, they'll be under warranty at the same time as well. Finally, older heating or cooling systems break down much more frequently than newer ones, so if you have two new units, you'll save on any repairs for the next few years.
Our Experienced Team is Here for You
Since 1964, the team at Vredevoogd Heating & Cooling is proud to have been entrusted with the safety and efficiency of so many homes. Vredevoogd Heating & Cooling offers a premier line of heating and air conditioning equipment that provides homeowners with systems that maximize their energy savings. We've specialized in heating, ventilating and air conditioning (HVAC) repair and replacement for residential customers in Grand Rapids, Wyoming, Grandville, Grand Haven, Holland, Kalamazoo and Lansing for over five decades.
For more information on how we can make sure your home is comfortable – no matter what temperature it is outside – contact us today!
Call Vredevoogd Heating & Cooling for all your plumbing, heating, & cooling needs. In the greater West Michigan, Lakeshore, and surrounding areas call: 844-HVAC-365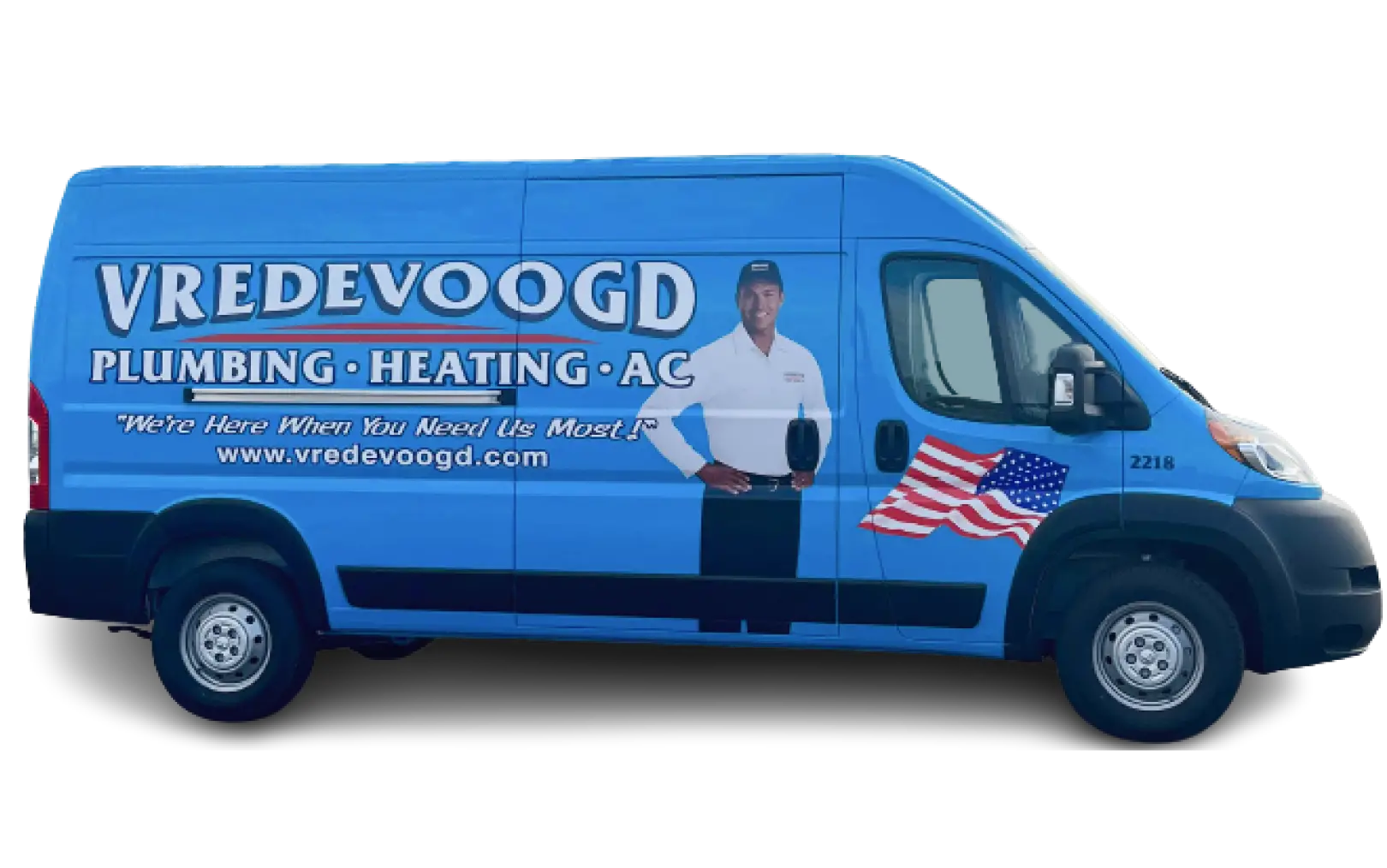 Why Choose Vredevoogd?
Michigan's HVAC & Plumbing Experts Since 1964
Serving the area for over 50 years
24/7 emergency HVAC services
Same-day services
Licensed, insured & background-checked technicians
Free estimates & financing options
Military, veteran & senior discounts