Furnace Heater Exchange Failure
There's nothing worse than your furnace quitting on a cold winter night. One of the most common problems is furnace heat exchanger failure and there are plenty of reasons why it happens, from issues in design, to a lack of ongoing maintenance.
Before identifying the "why," it's important to identify the "what."
How Does a Furnace Heat Exchanger Work?
All commercial and residential "fuel driven" furnaces contain a heat exchanger, which separates the part of your furnace that combusts fuel to create heat from the actual distribution of the heat to your home or business. As the exchanger heats up from the combustion chamber, air blows over it, into ductwork and out to living or working areas in order to provide heat. Properly functioning equipment not only keeps you warm, but is also important to your health. From a safety perspective, think of your heat exchanger as the shield that keeps harmful gases from blowing out through air ducts.
How Do I Identify a Cracked Furnace Heat Exchanger?
The emission of what are called "flue gases", or gases from furnace combustion, can be dangerous. A cracked furnace heat exchanger can cause these gases to leak out. While not always, flue gases sometimes contain carbon monoxide, which if ingested, can cause serious injury or even death. A working furnace that is properly sealed should not emit gas into a room.
Throughout its lifecycle, your furnace will turn on and off thousands of times. Vredevoogd EnergiAir Elite Series furnaces are made of heavy-duty stainless steel, but furnace heat exchangers (especially on models that use weaker metals) can wear out quickly. When metal is heated, it expands. When it cools, it contracts. The more the metal goes through this process, the faster it will wear out.
Causes of Heat Exchanger Failure
Common causes and complicated issues can both contribute to broken gas and oil furnace heat exchangers. Heat exchanger failure causes major headaches. Here a few reasons why it happens:
Lack of Airflow – Furnace air filters become dirty over time and restrict air from traveling through the furnace to your heat exchanger. When this happens, the exchanger will overheat, which often leads to fractured metal because it stays too hot for too long.
Poor Design & Poor Installation – A furnace is an investment and you get what you pay for. Using cheap materials can be the difference between a quality furnace that lasts and one that needs to be replaced. If you experience furnace heat exchanger failure more often than you'd like, chances are your furnace is not a high-quality machine. Furnaces also need to be installed correctly in order to work properly. It is crucial that your installation is completed by an experienced HVAC contractor like Vredevoogd to keep your furnace efficient and safe.
Oversized or Overfired Furnace – When a furnace is too big for a home, it tends to over fire, meaning it turns on and off quickly, leaving condensation on the heat exchanger which leads to rust. Here's how it works. The heat exchanger is cold when the furnace is lit and when contacted by the furnace flame, condensation builds up. In a furnace that is the proper size, the moisture will dry up after several minutes, but when a furnace is too big, it shuts off before the exchanger has a chance to dry. As mentioned, the more the furnace runs, the faster the exchanger will wear out, due to expansion and contraction. Likewise, when a furnace is overfired, it burns out the exchanger and causes cracking.
Age – Eventually, all furnace heat exchangers will break. When it's time for replacement, choose a trusted company that will install furnace parts that are built to last. Many Michigan residents have been extremely satisfied with Vredevoogd's dedication to service. Hear what they have to say and consider us if you need furnace repair or replacement.
What Can Be Done to Prevent Premature Heat Exchanger Failure?
Frequently changing your furnace filter is an easy way to prolong the life of your heat exchanger. When a clogged filter disrupts airflow and causes overheating, your exchanger will break down very quickly. Other obstructions in your duct work or air vents can also cause serious damage.
Above all, proper maintenance can save you years of frustration. More than half of all furnace service calls could have been prevented if proper maintenance was completed.  The best way to prevent premature heat exchanger failure is by scheduling an annual inspection with a qualified service technician. They will check every aspect of your furnace and alert you of any problems that need to be addressed. Vredevoogd is currently offering a $98 furnace tune up.
The experts at Vredevoogd Heating & Cooling can handle all of your furnace repair and installation needs. Contact us today to receive a free service estimate or call us at 844-HVAC-365 for more information.
Call Vredevoogd Heating & Cooling for all your plumbing, heating, & cooling needs. In the greater West Michigan, Lakeshore, and surrounding areas call: 844-HVAC-365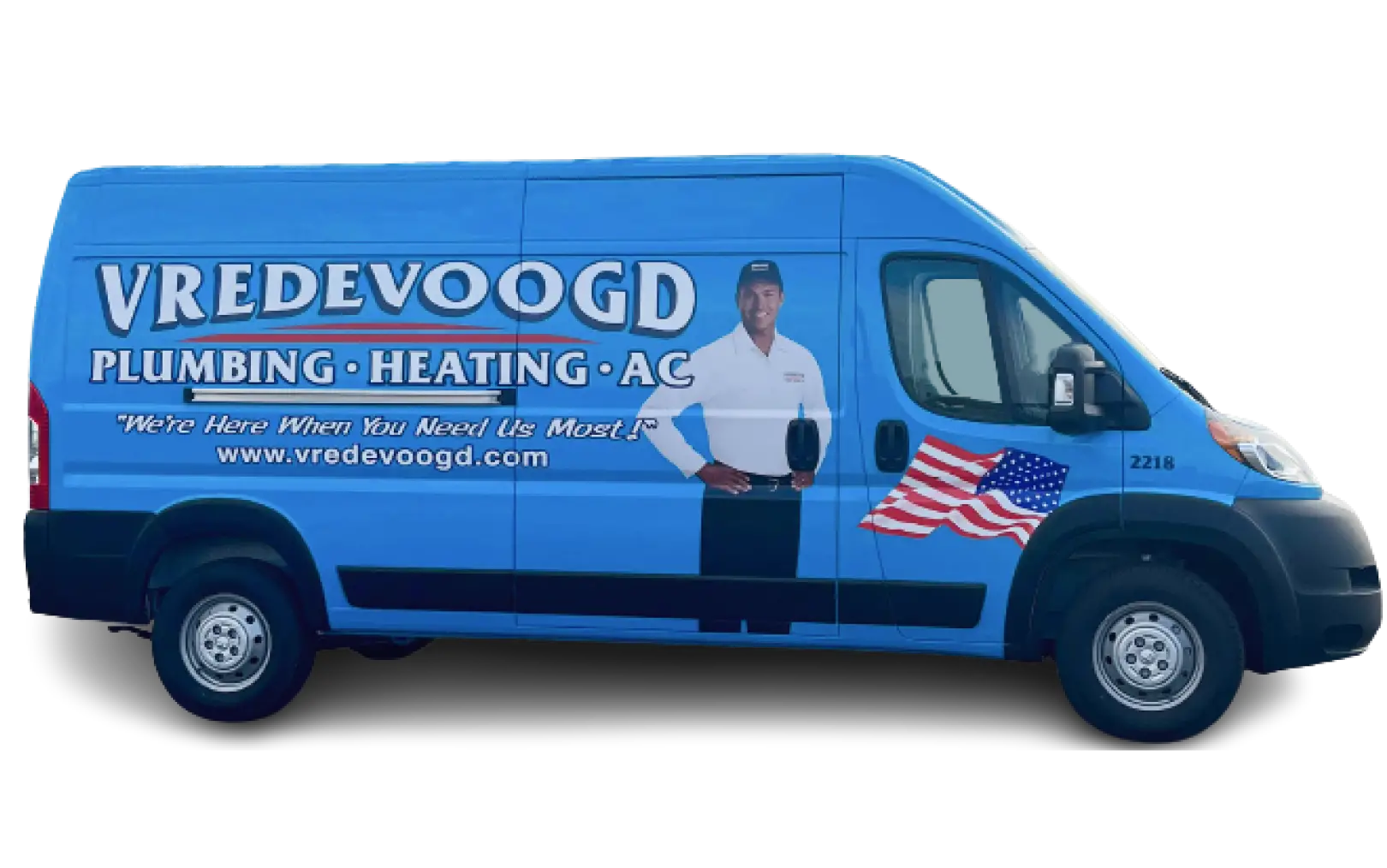 Why Choose Vredevoogd?
Michigan's HVAC & Plumbing Experts Since 1964
Serving the area for over 50 years
24/7 emergency HVAC services
Same-day services
Licensed, insured & background-checked technicians
Free estimates & financing options
Military, veteran & senior discounts