High-Efficiency Furnaces: What Are the Benefits?
Long gone are the days of standardized furnace options.
With today's technology, your home heating options are far better and more energy efficient than they were 10-15 years ago, which is not only good for the environment, but also good for your wallet as natural gas prices continues to rise year-after-year. According to the U.S. Energy Information Administration (EIA), natural gas is expected to rise 30% more than last year.
So, if you've been debating whether it's the right time to upgrade your furnace, we're here to tell you it is.
Below, we'll discuss what exactly a high-efficiency furnace is, what the current options available are, and how they can benefit you!
What is a High-Efficiency Furnace?
A high-efficiency gas furnace has an Annual Fuel Utilization Efficiency (AFUE) rating of 90% or higher, with a maximum of 98.5%.
This measures how much heat the furnace is bringing into your living space from burning natural gas or propane as fuel. Older furnaces typically have an AFUE of around 80%, which means that the remaining 20% of the heat generated is leaving the house up the chimney.
High Efficiency Furnaces and Natural Gas
Due in large part to an increase in vehicle traffic after quarantine and a sharp reduction in oil drilling and supply constraints, many people can expect to see an increase in their heating bill this winter.
High-efficiency furnaces, while typically more expensive up front, will end up saving homeowners more money per month than traditional furnaces. So, with natural gas prices rising at such a significant rate, it might be worth investing in a high-efficiency furnace for your home this winter – especially if you live in a climate, like in areas of the Midwest, that can sometimes drop down to 10 degrees Fahrenheit and lower.
Benefits of Choosing a High-Efficiency Furnace
To determine if a high-efficiency furnace is the right choice for you, let's take a look at the benefits.
Lower Energy Costs
A big issue in older furnaces is the pilot light. As they are always on, fuel is constantly burning. Also, if your furnace has an AFUE rating of 60%, you're losing almost half the heat your furnace creates. This is not only wasteful, but incredibly expensive.
For people in the Midwest or East Coast, the cost of maintaining a home in a colder climate can have a serious impact on their financial health. Opting for a high-efficiency furnace will save you money over the long-run – considering the average lifespan of a furnace is 15-20 years.
Sealed Combustion
High-efficiency furnaces have a feature called sealed combustion, which brings in fresh air from outside directly into the furnace through a dedicated pipe. This allows the furnace to burn gas mixed with air coming from outside, rather than using up oxygen from within the house.
Less Environmental Impact
Due to the chemicals involved in the combustion process, older furnaces are infamous for their environmental issues. Greenhouse gases, produced when they run, exhaust into the air, and can also create a host of problems.
High-efficiency furnaces work to reduce this with a shorter running time and secured airflow system.
What are the Current Options Available?
When looking for a new furnace, it should have the following:
High quality and durability
Energy efficiency over typical standard-efficiency units
More comfort and energy savings for your money
Worry-free operation with up to 10 years without any repair expenses
For more information on your furnace options or to speak to one of our knowledgeable technicians, please schedule an online consultation.
Keep Your Home Warm this Winter with Vredevoogd Heating & Cooling
For over 54 years, the team at Vredevoogd Heating & Cooling have been entrusted with the safety and efficiency of your home!
We're committed to finding an energy-efficient furnace that will not only save you money but keep you and your family warm for years to come!
To get your own high-efficiency furnace, contact us today!
Call Vredevoogd Heating & Cooling for all your plumbing, heating, & cooling needs. In the greater West Michigan, Lakeshore, and surrounding areas call: 844-HVAC-365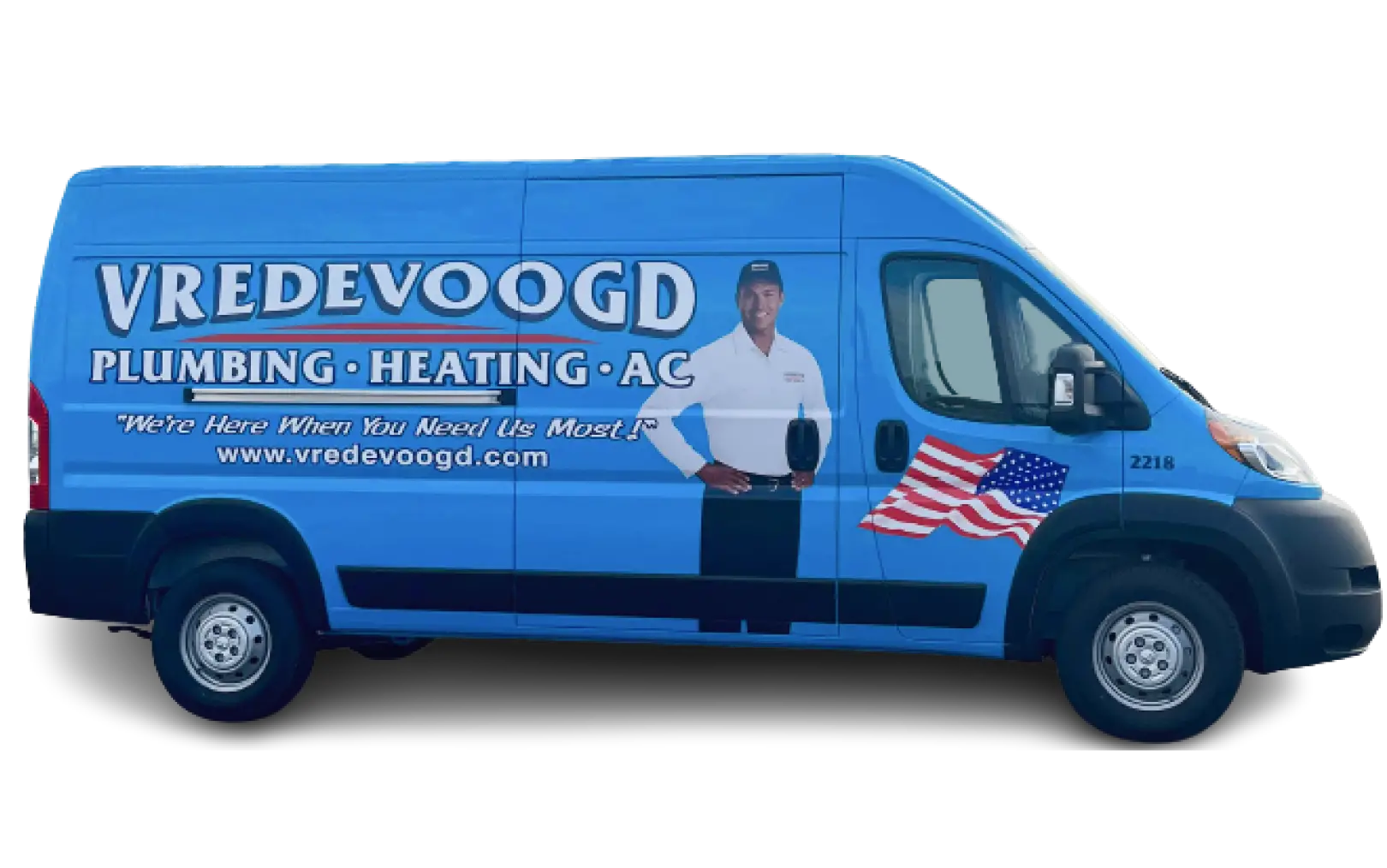 Why Choose Vredevoogd?
Michigan's HVAC & Plumbing Experts Since 1964
Serving the area for over 50 years
24/7 emergency HVAC services
Same-day services
Licensed, insured & background-checked technicians
Free estimates & financing options
Military & veteran