How Do I Keep My AC from Freezing Up?
If you want to keep your home cool and comfortable this summer, you need to take good care of your air conditioning unit. Proper care and maintenance is the key to a long life for your AC unit, and taking care of these issues now could mean fewer problems down the line.
After all, you do not want your AC to stop working on the hottest day of the year. If you want to stop your AC from freezing up, you need to do these things today, before the hottest days of summer arrive.
Maintain a Steady Refrigerant Level
Every time your AC unit goes on, it uses a small amount of refrigerant. Over time, the refrigerant level can drop to very low levels, causing the system to freeze up and stopping the flow of cool and comfortable air.
It is important to have your AC recharged and the refrigerant level checked on a regular basis. Doing this now can give you a summer full of cool air – and a more comfortable home.
Keep the Filters Clean
Changing the filters on your AC unit is essential, and something you should be doing on a monthly basis. Be sure to keep a supply of fresh filters on hand to make changing them easier, and examine the filter carefully before placing it back inside.
If your filters are lightly soiled, you may be able to clean and reuse them, but if they are clogged or very dirty, you should simply do the replacement. So mark your calendar now and get ready to change your AC filter every month.
Check the Condensate Drain Regularly
A clogged condensate drain can stop your AC in its tracks, so check the drain regularly to make sure it is working the way it should. You should check the condensate drain on a weekly basis, noting any problems and calling us for service if you need it.
Inspect the Thermostat
A malfunctioning thermostat could cause your home air conditioning unit to freeze up, but the failure of this component could also cause additional problems. If the thermostat is not recording the proper temperature, your AC may never come on, or it may run longer than it needs to.
This could decrease the efficiency of the AC unit and cause your summer cooling bills to soar. Even if your AC seems to be functioning normally, it is a good idea to check the thermostat for proper operation. We can evaluate your thermostat, check the entire system and make sure everything is working the way it should, so just give us a call today.
Call Vredevoogd Heating & Cooling for all your plumbing, heating, & cooling needs. In the greater West Michigan, Lakeshore, and surrounding areas call: 844-HVAC-365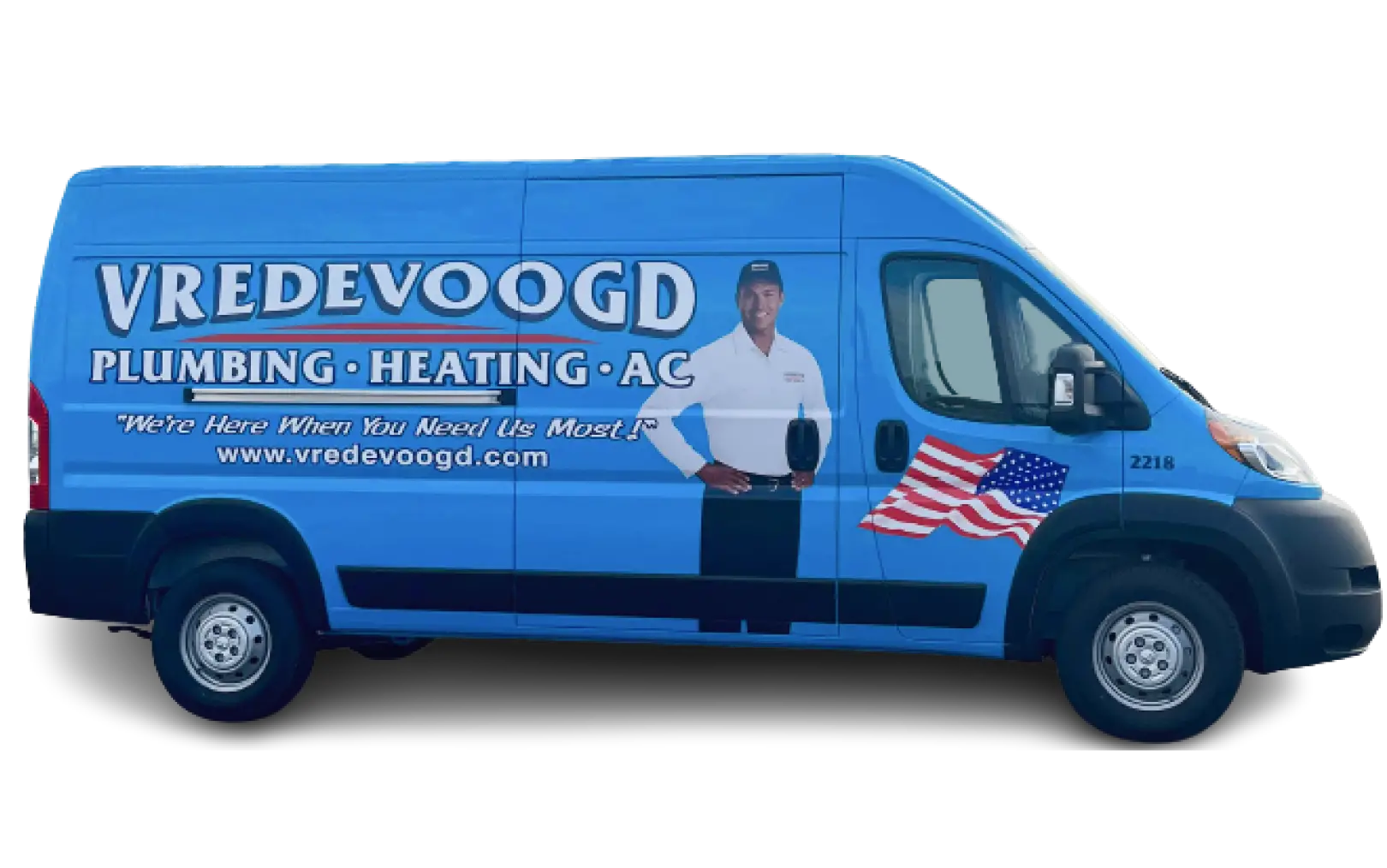 Why Choose Vredevoogd?
Michigan's HVAC & Plumbing Experts Since 1964
Serving the area for over 50 years
24/7 emergency HVAC services
Same-day services
Licensed, insured & background-checked technicians
Free estimates & financing options
Military & veteran