Dangerous Heat is Headed Our Way: Are You Ready?
Grand Rapids enjoyed cooler-than-average temperatures for much of June, but the National Weather Service predicts a few weeks of extreme heat in July and August that will make up for it.
Keeping as cool as possible during a heat wave requires a couple of simple tasks that will benefit you in some big ways:
Higher A/C efficiency.
A reduced cooling load.
Fewer problems that could lead to a breakdown.
Better comfort at a lower price tag.
Sealing air leaks and maintaining your air conditioner will go a long way toward keeping you comfortable and reducing your cooling costs when Grand Rapids heats up this month.
Seal Air Leaks
Air leaks in your home reduce your comfort level and make your air conditioner work extra hard to compensate. To detect air leaks, close your exterior doors and windows on a windy day. Light a stick of incense, and slowly pass it around common sites of air leaks:
Windows and doors.
Outlets and light switches on exterior walls.
Service and pipe entrances.
Recessed light fixtures.
The attic hatch.
Baseboards.
When the incense smoke wavers, you have an air leak. To seal them:
Apply silicon caulk around door and window frames, light fixtures, and along drafty baseboards.
Install weatherstripping along movable parts of windows and doors.
Install door sweeps.
Use expandable caulk to seal larger gaps and cracks around pipes and service entrances.
Install pre-cut foam gaskets behind outlet and light switch plates.
A professional energy audit can help you pinpoint the exact nature and location of air leaks as well as evaluate your overall energy usage and offer practical solutions for better home energy efficiency.
Maintain Your Air Conditioner
Annual A/C maintenance by a qualified technician improves your system's efficiency, extends its operating life, and prevents common–but expensive–operating problems. It's never too late to schedule a tune-up with Vredevoogd.
Before the heat descends on Grand Rapids, these DIY maintenance tasks will also help ensure your A/C is up for the task of keeping you cool.
Check your air filter. A dirty filter reduces efficiency by up to 15 percent and can cause airflow problems and overheating. Replace your dirty filter with a high quality, pleated air filter.
Hose down the outdoor unit and remove any plants growing within 18 inches. Plant growth near the unit and grass, leaves, and other debris trapped in the fins reduce the efficiency of the transfer of heat from your home to the outdoors.
Clean around your indoor unit. Dust, dirt, and pet hair that accumulate on and around your indoor A/C unit can enter the system and cause damage. It may also clog the condensate drain, which can lead to water damage, mold growth, and a system shutdown.
Stay Cool, Grand Rapids
Stay Cool, Grand Rapids
For more tips on staying comfortable during a Grand Rapids heat wave, or to schedule an A/C tune-up, contact Vredevoogd Heating & Cooling today. Our skilled, knowledgeable, and friendly technicians are standing by to improve your comfort level and lower your cooling bills.
Call Vredevoogd Heating & Cooling for all your plumbing, heating, & cooling needs. In the greater West Michigan, Lakeshore, and surrounding areas call: 844-HVAC-365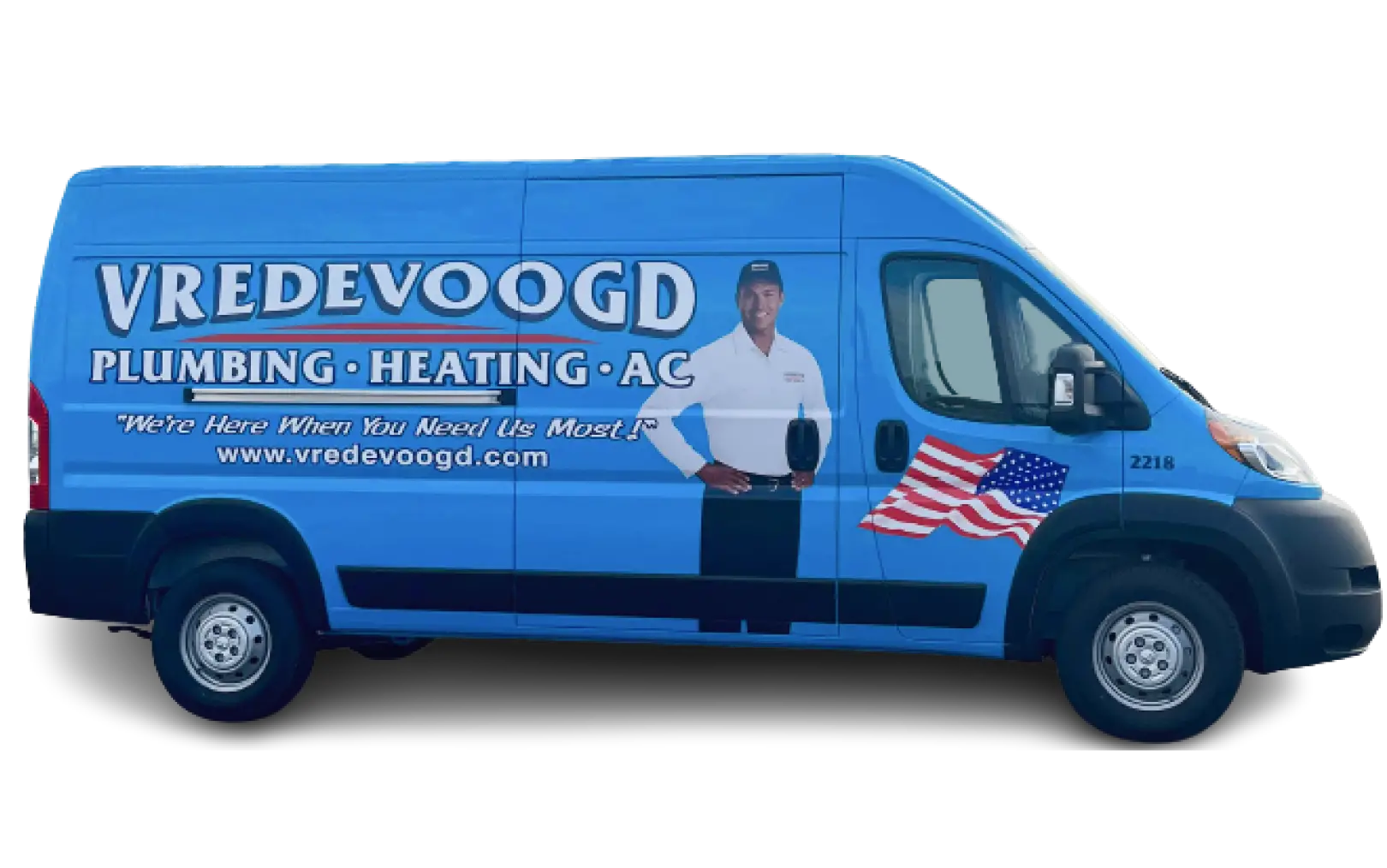 Why Choose Vredevoogd?
Michigan's HVAC & Plumbing Experts Since 1964
Serving the area for over 50 years
24/7 emergency HVAC services
Same-day services
Licensed, insured & background-checked technicians
Free estimates & financing options
Military, veteran & senior discounts