What Are Some Reasons Why My Air Conditioner Leaks?
Customers frequently ask the question why is my air conditioning unit leaking because it is clear to them something is not right, but they cannot figure out exactly. Since the unit may still be functioning and producing cool air, and there appears to be no other problems, customers just seem to let this problem linger. However, here in Grand Rapids, the summer requires a well working and maintained HVAC unit. Do not ignore leaks because they could indicate a larger problem. Yes, some leaks may be minor, however, a service professional can inform you if your problems may be greater. Here are some reasons why your a/c unit may be leaking.
Drain Pan
Your drain pan can be dirty and blockages can start. As water collects in the pan, so can mold and other bacteria. If you allow this water to sit there without cleaning it, the water can cause rust and weaken the pan. Cracks can begin to form and leaks begin. This is a simple fix. However, if you do not replace this drain pan, the bacteria, mold, dust, and debris can make its way back into your home. The health risks are great. Do not allow this issue to linger.
Blocked Lines
When the pipe that takes the condensation out of the system gets clogged by debris, it overflows and makes a mess. If the pan, gets extremely full it will overflow onto the system. Do not allow this standing water to collect and remain in the unit. It will rust and cause additional problems with its systems. Make sure a professional locate the areas of blockage so that you will not have standing water.
Cracks
Cracks in your drain pan are caused by overuse and age. Additionally, if your HVAC unit freezes from time to time and thaws out, the stress on the pan will cause cracks to start to form. The cracks can go unnoticed by a homeowner for a long period of time until the damage it creates moves into the other parts of the system. Get annual checks by your trusted HVAC professional to ensure that cracks and leaks do not go further into disrepair. If you are in Grand Rapids, Vredevoogd Heating and Cooling for semi-annual or annual checks of your HVAC system to prevent any long-term damage and ensure proper operation.
Call Vredevoogd Heating & Cooling for all your plumbing, heating, & cooling needs. In the greater West Michigan, Lakeshore, and surrounding areas call: 844-HVAC-365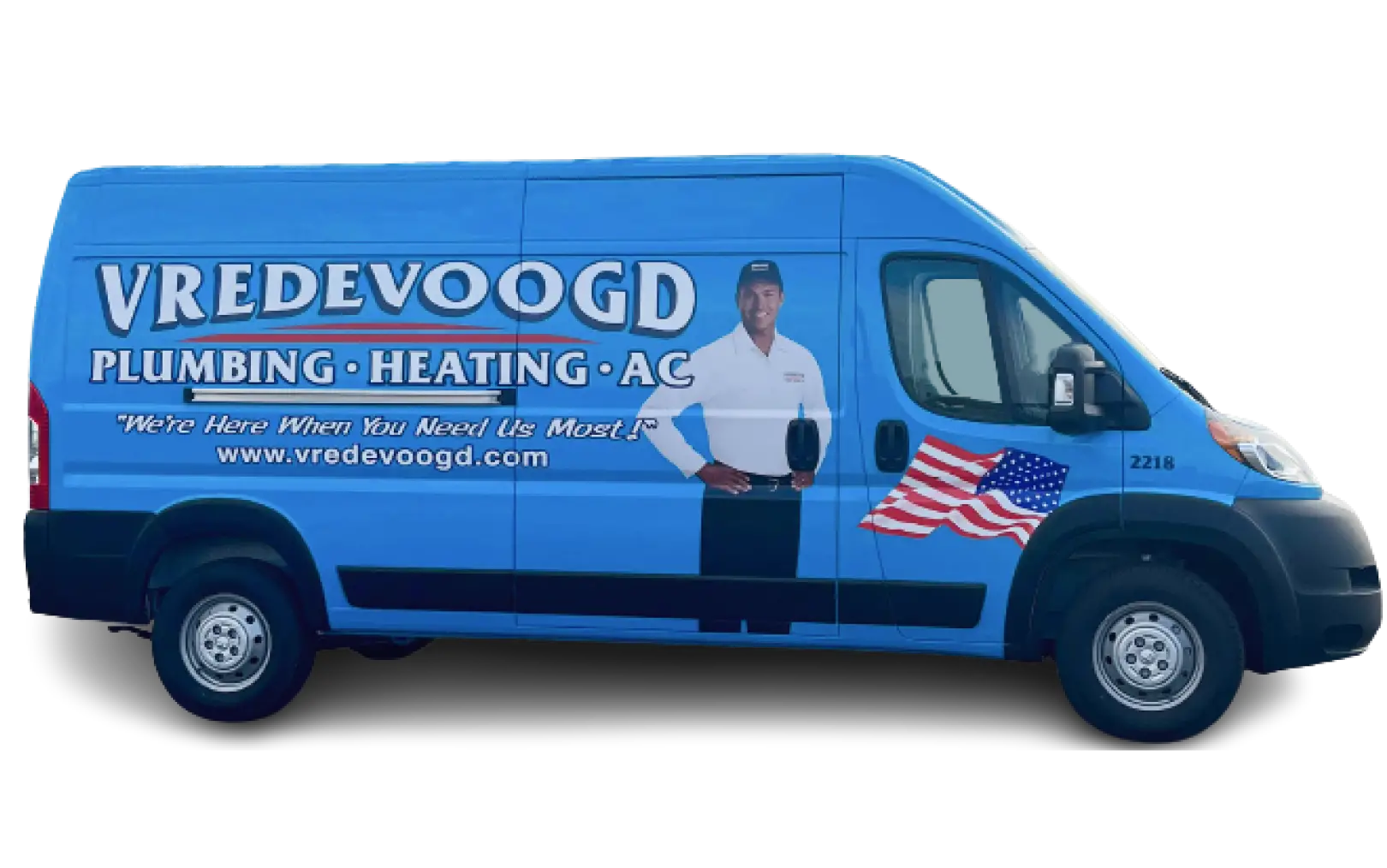 Why Choose Vredevoogd?
Michigan's HVAC & Plumbing Experts Since 1964
Serving the area for over 50 years
24/7 emergency HVAC services
Same-day services
Licensed, insured & background-checked technicians
Free estimates & financing options
Military, veteran & senior discounts