What is Zone Heating?
Zone heating is one of the best ways to keep your home comfortable, year-round. This popular temperature distribution method can ensure you and your family stay as warm or as cool as you like, even if you tend to argue over the thermostat. With an HVAC zoning system, you'll have control over the temperature of each room or "zone" in your home. That means your partner can stay cozy while you remain comfortable.
What is a Heating Zone?
When a home is improved with an HVAC zoning system, heating zones must be determined. Identify which distinct areas of your home, or "zones", would benefit from their own thermostats, to maintain comfort levels.
A heating zone is a designated area of your home that is controlled with a single thermostat. With zone heating, you will be able to perfectly maintain the temperature of each area.
With a reliable HVAC zoning system in place, you can identify as many heating zones as you need. Many homes have two or more heating zones.  This depends on how many rooms are frequently used, how the climate impacts the temperature inside your home and whether you and your family can agree on the ideal room temperature.
Two-Zone Heating
Two-zone heating is a popular solution for homes where heat noticeably rises. Perhaps your upstairs is always hot and muggy during the summer months, or your downstairs gives you chills as soon as fall arrives. If so, two-zone heating is for you. With two-zone heating you can balance the temperature within your home by heating the downstairs or cooling the upstairs as required.
Three-Zone Heating
Three-zone heating, or systems with more than three zones, are ideal for families who prefer to control the temperature of individual rooms. Perhaps your partner is tired of wearing too many sweaters, or you think they like it a little too toasty.
With zone heating, there's a pleasant space for everyone. A zone heating system can ensure every member of your family feels comfortable in a room of their choice.
Why Choose a HVAC Zoning System?
Zone heating and cooling, managed through an HVAC zoning system, is the best way to keep your home at the perfect temperature for everyone, no matter the season.
Choose a HVAC Zoning System over Smart Vents
You may be familiar with "smart vents" and apps designed to keep your home comfortable. New, "smart technology" is exciting, but current smart zoning methods work against your heating and cooling system. Your HVAC system was built to regulate the temperature of your entire home, so closing vents can cause inefficiency and even damage. HVAC zoning systems are designed to improve your heating and cooling system, to optimize and manage performance.
Sleep Better
It's easier to get a good night's rest when your room is at the perfect temperature. It's important for young children and elderly people in particular, to sleep in a room that is neither too hot nor too cold. Zoned heating can help your family sleep well.
How to Zone Your Heating System
If you're wondering how to zone your heating system, you've come to the right place. Zoned heating makes use of electronically controlled dampers and thermostats to manage the temperature of each room.
To set up zone heating, you'll need to place your electronically controlled dampers in your air ducts and connect these to the thermostat for this room or zone. By communicating with the dampers, your thermostat will then be able to manage how much hot or cool air enters the zone.
Contact Vredevoogd for Zone Heating
Above all, your home should be comfortable. A reliable HVAC zoning system can ensure that it is.
Vredevoogd will help you set up the perfect zone heating system for your home. We are heating and cooling experts, and have been serving the residents of Grand Rapids, Wyoming, Grandville, Grand Haven, Holland, Kalamazoo and Lansing, Michigan since 1964. As HVAC professionals, our team has a vast amount of knowledge and experience in the industry. We will install zone heating in your home, maintain your HVAC zoning system and complete all related repairs and replacements.  Vredevoogd offers affordable, reliable services for all clients. We're rated A+ by the Better Business Bureau, and if you live in Michigan, it's likely your neighbors have heard of us.
The comfort of your home is our top priority. End the eternal battle of the thermostat and contact Vredevoogd today for all your heating and cooling needs. We can zone your home and keep you comfortable year round – whether you intend to bask in warmth, or stay as cool as a cucumber.
Call Vredevoogd Heating & Cooling for all your plumbing, heating, & cooling needs. In the greater West Michigan, Lakeshore, and surrounding areas call: 844-HVAC-365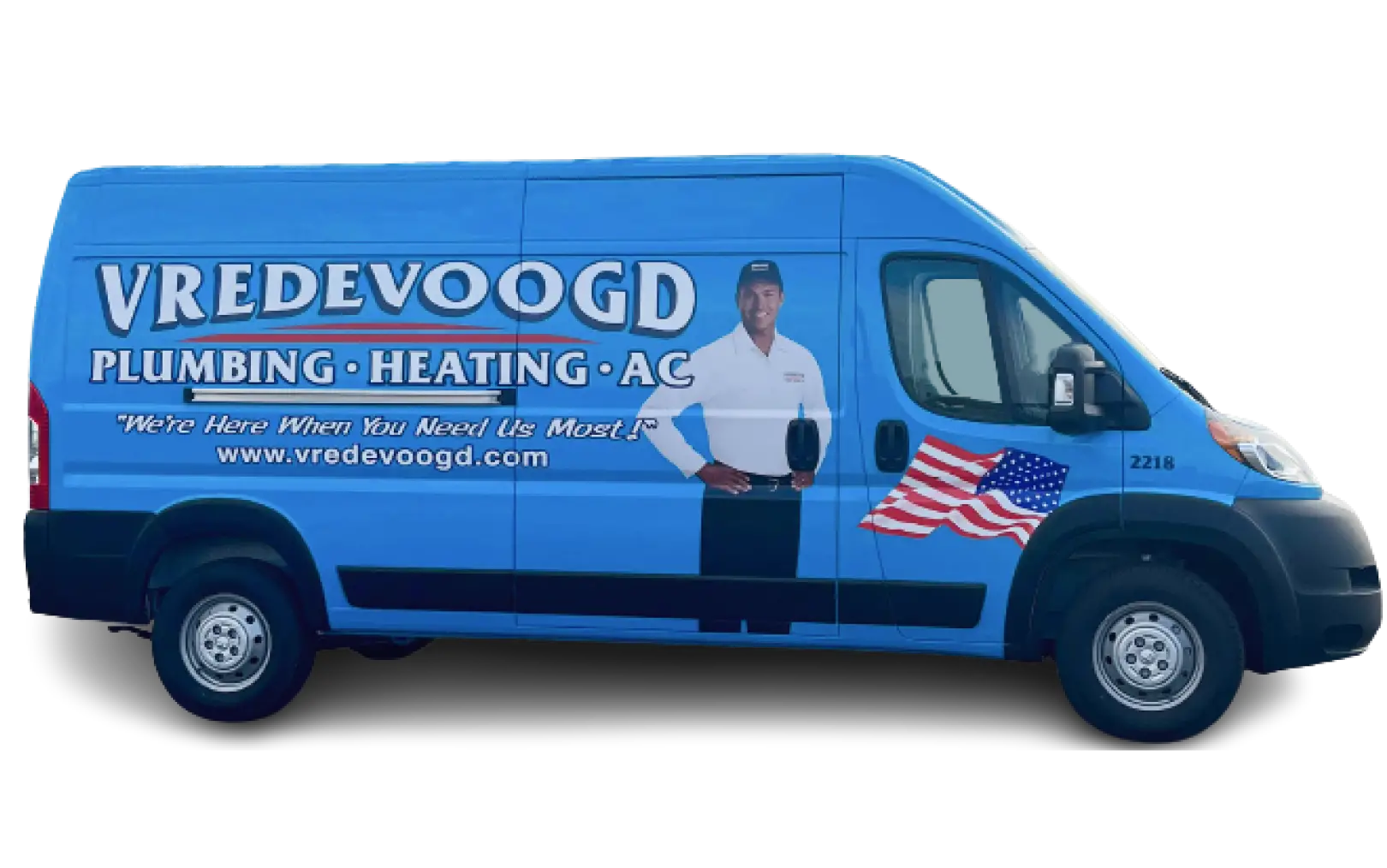 Why Choose Vredevoogd?
Michigan's HVAC & Plumbing Experts Since 1964
Serving the area for over 50 years
24/7 emergency HVAC services
Same-day services
Licensed, insured & background-checked technicians
Free estimates & financing options
Military & veteran