Whole Home Humidifiers
The winter season brings many opportunities to engage in fun activities such as skiing, sledding and walks with a cup of coffee on those crisp mornings. Of course, this time of year can also be challenging with freezing temperatures, icy conditions and excessive snowfall.
Winter not only changes the outdoor environment in our part of the country, but also the conditions in our homes, namely due to a notable loss of humidity. Dryness in the air can cause many different types of health issues for people during winter time.
Installing a whole home humidifier has proven to be a great solution to fend off the effects of old man winter. In fact, many homeowners have found that whole house humidification systems have been extremely helpful to them in staying comfortable all year round.
What is a Whole House Humidifier?
Unlike a portable unit that may be in just one room, a whole house humidifier is directly connected to your home's HVAC system and delivers a precise level of moistened air to the entire house. There are several different types of humidification systems on the market, but they all accomplish the same goal – providing just the right amount of humidity in the air to help keep your indoor environment as comfortable as possible.
The Benefits of a Built In Humidifier
There are many benefits to installing a whole house humidifier, not only for your family but also your home too.
Better Skin
No matter what time of the year it is, dry skin can be a serious problem for many people. Whether you have a dry nose, cracked skin or severe allergy symptoms, coping with dry air can really be bothersome. A whole home humidifier will replenish the humidity of your indoor air so that your skin can retain the level of moisture it needs to be healthy.
Preventing Illness
The respiratory system in the human body requires a certain level of humidity to function properly. A dry indoor environment can pull moisture from membranes and lead to sore throats and uncomfortable sinus conditions. During cold and flu season, a lack of moisture in the air can make symptoms feel much worse. Maintaining the right humidity level in your air can help prevent many respiratory conditions and make seasonal illnesses more bearable.
A Good Night's Rest
Having dry air in your home can also affect the quality of your sleep. Whether it causes a bad cough or excessive snoring, a lack of humidity can rob you from getting the rest that your body needs.
Home Preservation
No matter what the season happens to be, dry air is not only hard on the human body, but also your home itself. A lack of moisture can damage porous surfaces such as wood flooring, chairs and tables. In addition, drywall cracks and door frame shrinkage can occur from a sudden drop in humidity. Installing a whole home humidification system is not only good for the humans and pets in your house, but also the structure too!
Home Humidifier Systems
Contact Us Today
Since 1964, second-generation-family-owned Vredevoogd Heating & Cooling has been there for all customers heating and cooling needs.
HVAC technology has certainly come a long way in the 50+ years that we have been in business, but one thing has remained constant – our commitment to providing the best heating and air conditioning services in the industry.
If you would like to know more about how a whole house humidifier would improve the comfort and enjoyment of your home all year long, contact us today. We are happy to tell you more about how maintaining a consistent humidity level indoors can benefit you, no matter what the season.
Contact Us
Call Vredevoogd Heating & Cooling for all your plumbing, heating, & cooling needs. In the greater West Michigan, Lakeshore, and surrounding areas call: 844-HVAC-365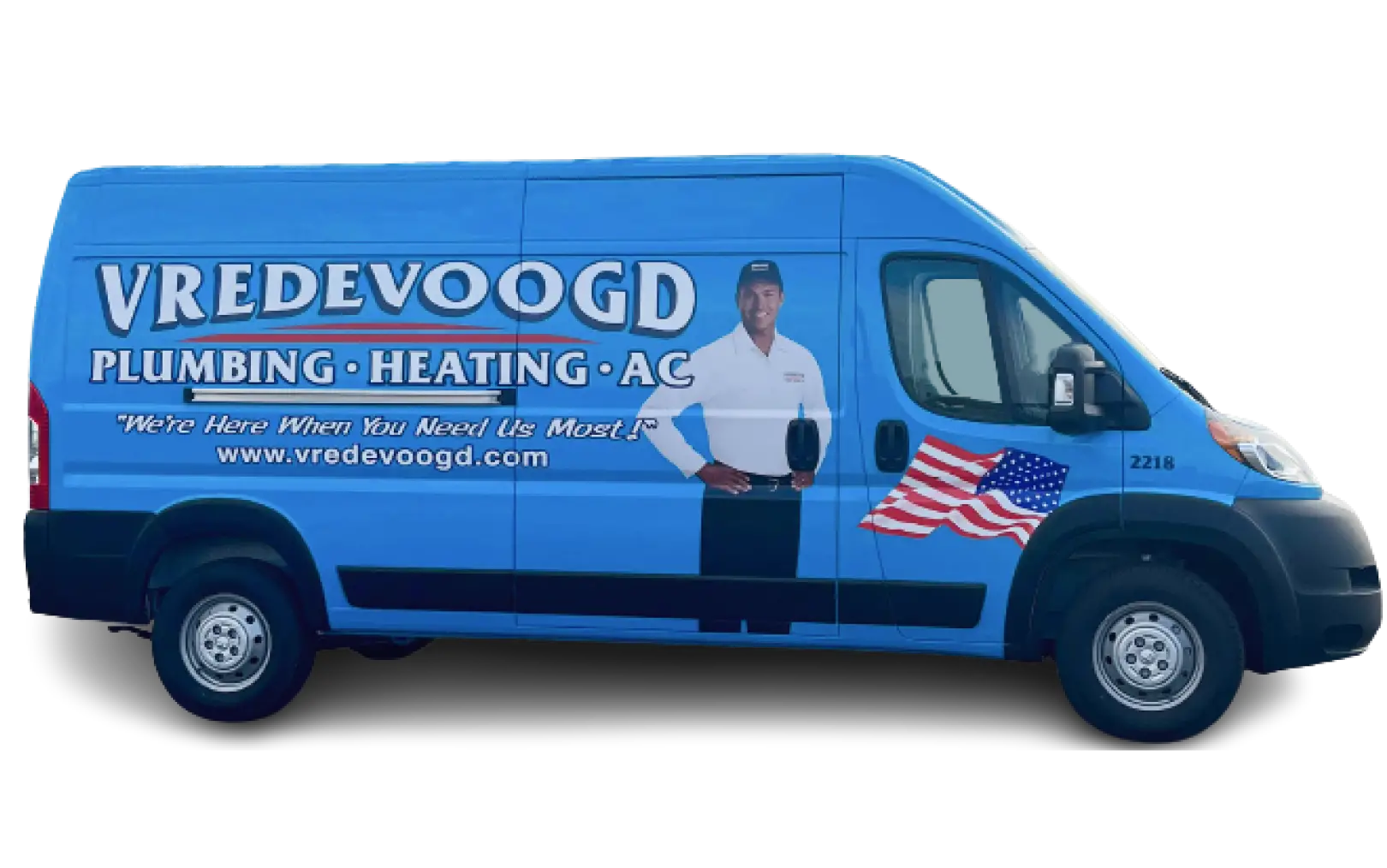 Why Choose Vredevoogd?
Michigan's HVAC & Plumbing Experts Since 1964
Serving the area for over 50 years
24/7 emergency HVAC services
Same-day services
Licensed, insured & background-checked technicians
Free estimates & financing options
Military, veteran & senior discounts