Why Does My A/C Not Blow Cold Air
During summer, it's important that your home's A/C system is working properly so you can keep yourself and your family cool and comfortable. But what if you notice that it's not blowing cold air, or the air seems to feel "lukewarm?" There are many reasons your home's A/C system is not cooling your home the way it should. Read on to learn about some common issues, and what you can do to fix them.
The Thermostat is Set Incorrectly
If you notice that the A/C is blowing cold air sometimes, and then lukewarm air other times, the fan setting is likely set to the "ON" setting. This setting simply runs the fan all day and night, even when the air is not being cooled. The result is that the non-cooled air is constantly pumping, making temperatures rise. You can easily resolve this by turning your thermostat to the "AUTO" setting.
Your Air Filter is Dirty or Clogged
The air filter plays an important role in the functioning of your home's HVAC system. If it's dirty or clogged, it can cause the A/C to struggle. Dirty air filters cannot process or produce clean, fresh air, and they may also cause damage to your evaporator coil. Unclean air filters can actually freeze the coil, turning it into a block of ice that won't allow the air to flow through. The simple fix is to change your air filter, and this should ideally be done once a month, particularly during the summer when your A/C system is running frequently.
The Outside Unit is Dirty
The inside unit of an A/C system is called an evaporator and it absorbs the heat from your inside air, transferring it to the outside unit, or condenser. If the condenser is dirty, it cannot dissipate heat properly, which can make the unit struggle to produce cold air. Simply spray your outside unit with a garden hose, using a gentle spray. Avoid blasting it with powerful water, as this could damage the unit. You should also look for any weeds or grass that is growing around it, as the outside unit needs room to breathe and dissipate that hot air.
When to Call the Experts
If you've tried these methods and you're still not getting cold air, it might be time to call in the professionals. The issue could be something more serious like a broken condenser fan motor. If it's broken or faulty, it will need to be replaced. Another common problem is that your unit has a low level of refrigerant. You may have a leak, which is usually indicated by ice buildup on the refrigerant line, an unusual hissing or bubbling sound, or the unit only seems to cool down at night. A bad compressor is another common problem. All of these issues should only be addressed by a professional HVAC company who can troubleshoot the problem and make the necessary repairs.
Call Vredevoogd Heating & Cooling for all your Furnace & AC needs at 844-HVAC-365.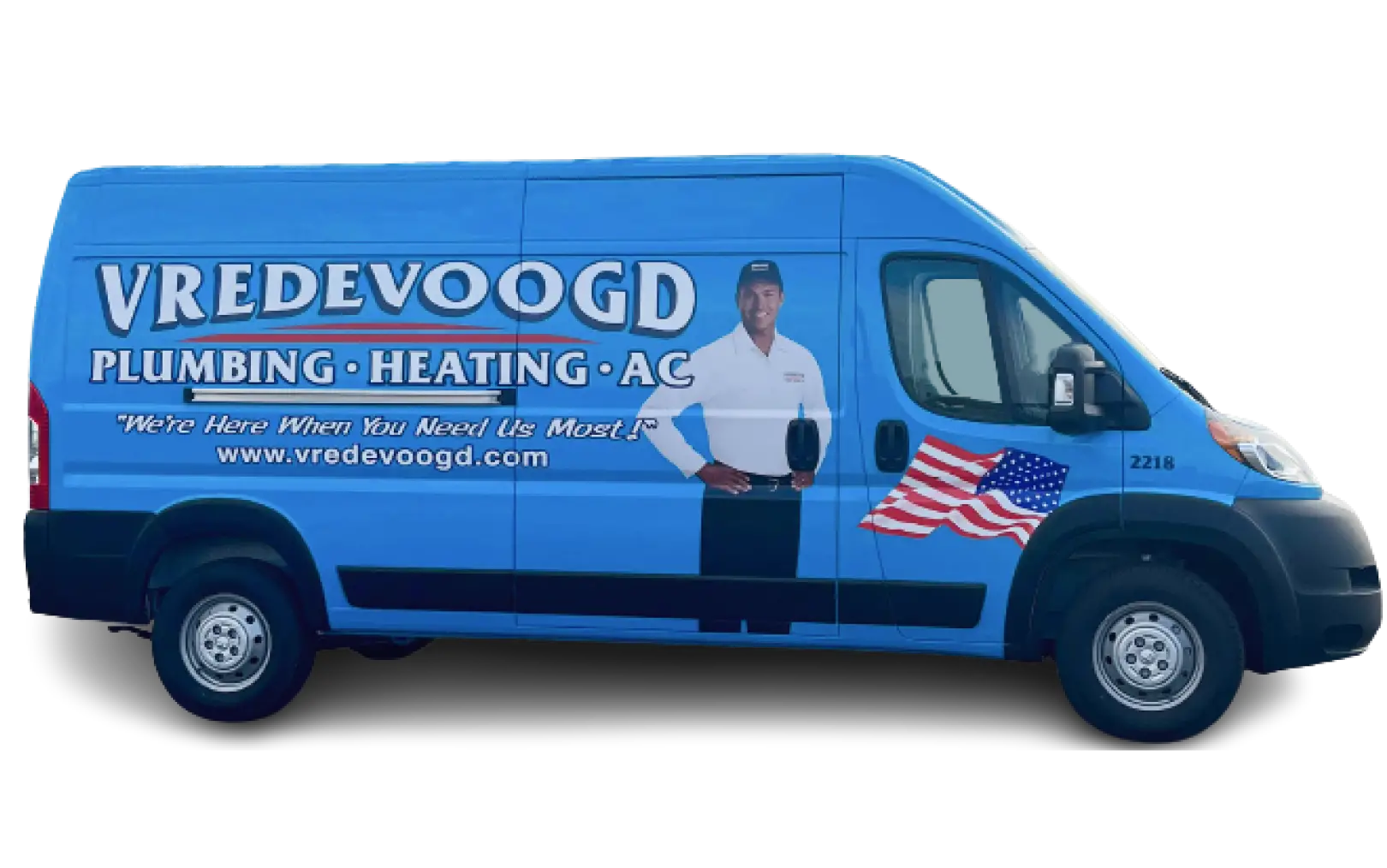 Why Choose Vredevoogd?
Michigan's HVAC & Plumbing Experts Since 1964
Serving the area for over 50 years
24/7 emergency HVAC services
Same-day services
Licensed, insured & background-checked technicians
Free estimates & financing options
Military, veteran & senior discounts