Why is My AC System Freezing?
When the weather heats up and the summer season really gets going, you rely on your air conditioning system to keep your home and family cool and comfortable. When you turn on the air conditioner and set the temperature, you expect to be greeted with a steady stream of refreshing cool air, but what do you do when that stream is interrupted.
Dealing with an air conditioning system that freezes and refuses to work can be frustrating. Instead of enjoying a cool air conditioned home, you find yourself sweating in the heat, and wondering what could be wrong with your AC unit.
There are a number of things that can cause your AC system to freeze, or to work at less than peak efficiency. Here are some things to check when your AC freezes and the indoor air starts to heat up.
Is the Outside Unit Clogged?
The winter season can really take a toll on your outdoor air conditioning unit, with fallen leaves, dead branches and other debris blocking the exterior. If your AC is freezing or not working properly, take a step outside and look at your outdoor unit. The problem could be as simple as a blocked input or clogged vent.
Have You Checked the Evaporator Coils?
Problems with the evaporator coils can cause an otherwise well functioning AC system to freeze up, so check the coils and make sure there is proper air flow. A lack of air flow around the coils can cause the entire system to seize up, so make sure the area is clear and free of debris.
Does the Unit Have Sufficient Refrigerant?
Your AC system uses refrigerant to keep your home at the proper temperature, and over time that refrigerant starts to run low. If you have not already done so, check the refrigerant level in your AC unit to see if that could be causing your freeze-ups. If the refrigerant level is low, just call your local HVAC technician to have some added.
Is Your AC Unit Too Small?
Your AC unit is designed to keep your home at a comfortable temperature, but during times of excess heat, it may not be able to keep up. If you are experiencing more frequent heat waves, it may be time to upgrade your AC system. A too small AC unit will run less efficiently, and it could freeze up just when you need it most.
You do not have to live with a freezing AC system or a unit that fails to keep your home at a comfortable temperature. Once you know the causes and what to look for, you can fix the issues fast and get your home back to a comfortable level.
Call Vredevoogd Heating & Cooling for all your plumbing, heating, & cooling needs. In the greater West Michigan, Lakeshore, and surrounding areas call: 844-HVAC-365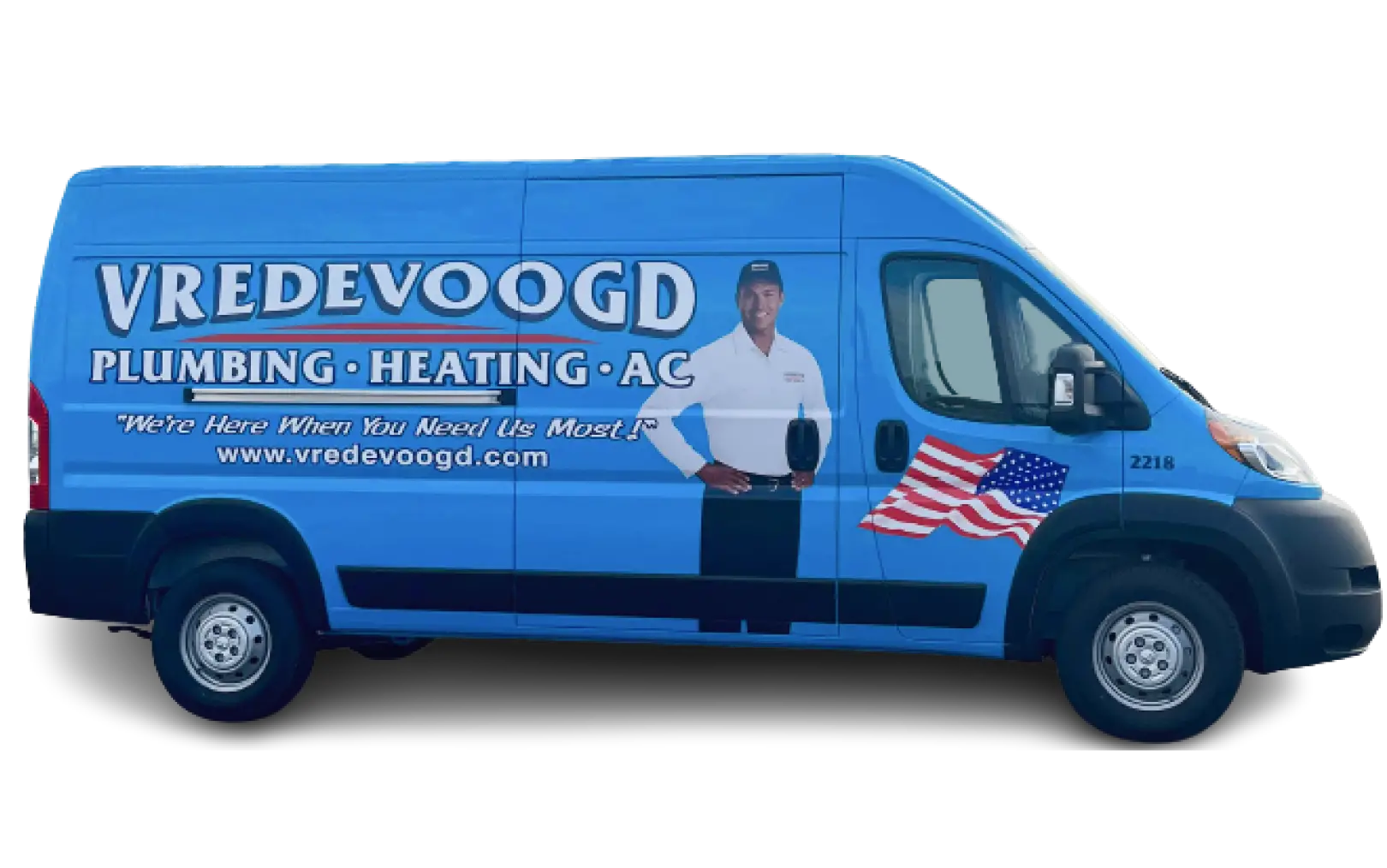 Why Choose Vredevoogd?
Michigan's HVAC & Plumbing Experts Since 1964
Serving the area for over 50 years
24/7 emergency HVAC services
Same-day services
Licensed, insured & background-checked technicians
Free estimates & financing options
Military & veteran